Tonight is Thursday, June 6, 2019, and we're gathering at my historic DTSP venue NOVA 535 for our weekly Entrepreneur Social Club [tm] meeting time. A fun couple of hours spent with fellow visionaries, business owners, smart alecks, dreamers, gurus, and mentors. From pre startups to industry titans, they all swing by to share their newest ideas, what they've heard around the web and offer smart advice and wisdom. Those of us who follow that good advice, who keep at it with hard work and continuous improvement, we find success. And out of all this, we also find friendships, connections and shared moments too fabulous to ever make it onto the screen here.  Sometimes those friendships turn into delicious Vietnamese Fusion dining, offered up by one of our favorite hospitality Entrepreneurs herself, Thuy Le.  So let's celebrate our shared Entrepreneurial life, with a rousting 1, 2, Thuy Tequila Shots Tonight!
1, 2, Thuy Tequila Shots!
Speaking of our lovely dinner hostess, Thuy Le (pictured below), the owner of La V Fusion restaurant, plus a couple of swanky nail spas nearby down Central Avenue, she decided to join us for ESC tonight.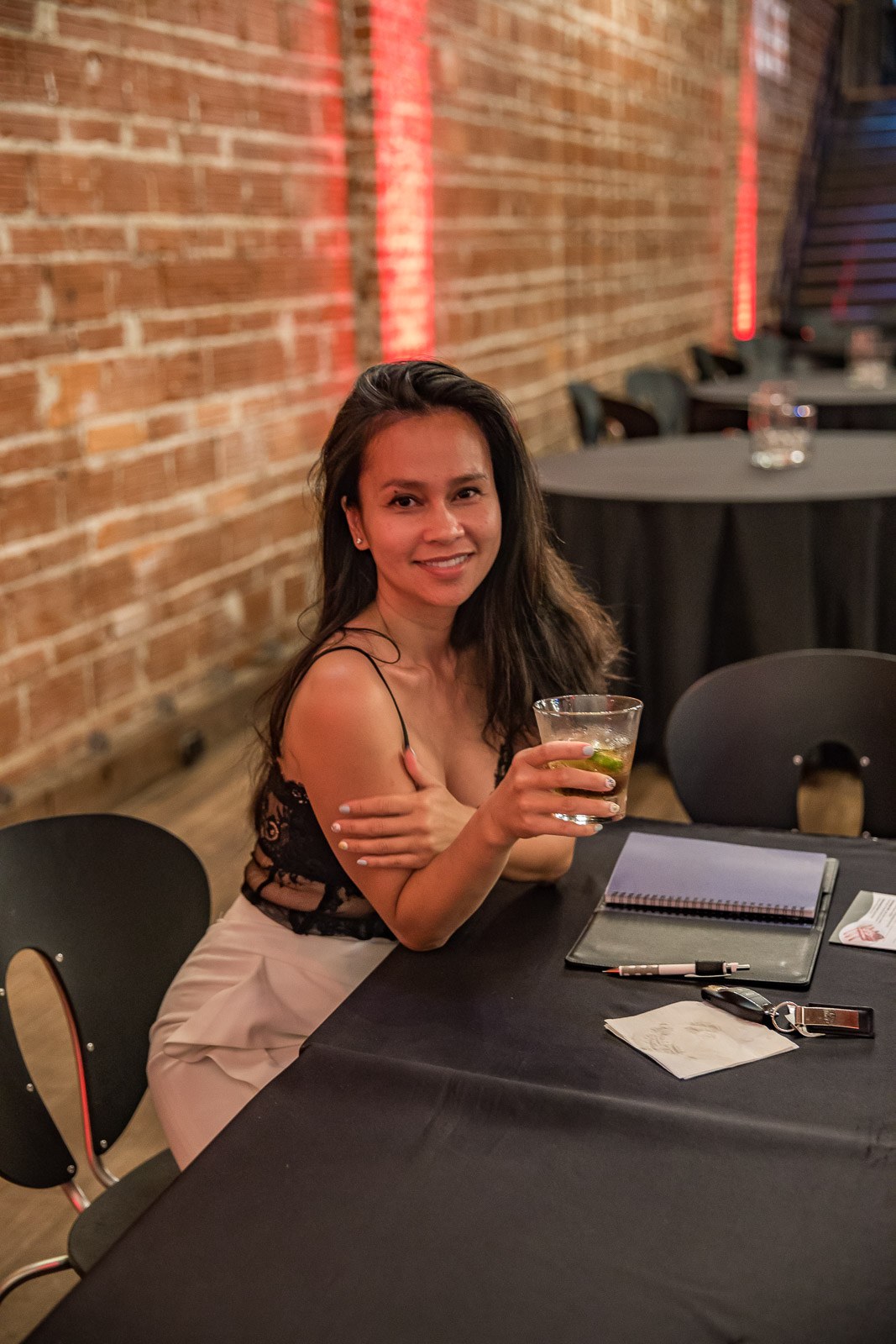 No, the photo below is not AFTER 1, 2, Thuy Tequila Shots, that's just how we are. Well, speaking for myself, I honestly don't know what these klowns are up to before the meeting! We, a group of Entrepreneurial humans, from every corner of our planet, gathered at this moment in sunny St. Pete, Florida, at my historic venue NOVA 535. Carpe Diem Amigos and Amigas! 
Below is Judy Sanchez, of the funeral home business, Jeff Clark with Orange Blossom construction, and our favorite "That's Not a Pour!!" scriptwriter, Rachana Suri. Rachana wrote a screenplay, "Dukkha" (suffering) a fictional story (about human suffering) with a backdrop of a real story about human trafficking, and whether or not is it increasing because of the ongoing opioid epidemic. She is also trying to determine what to do with the several investment rental properties she has just purchased. Good thing we have several real estate gurus to guide her. Bon Chance! 
Newcomer Jeff Clark's Orange Blossom Construction Company offers residential kitchen and bath renovations, they build and wholesale cabinets, and is looking for home flippers. He found us on Meet Up, welcome Jeff!
Next is State Farm Guru Mimi Lange, Mr. Fix Your Technology Problems Justin Petro and fellow globetrotting Entrepreneur Corrine Falcon.
  The lovely Ms. Stretch-Arm-Strong, aka Loretta McGrath Francis, joins us once again, while Steve Rosen of Career Compass Group, and Trevor Robinson, with HIT SIGNS, pose up below.
Words of Wisdom: Try to give the best bang for the buck, stop selling and start helping, it's called relationship selling. Selling is all about the journey, and how you get to the sale is by building trusted personal relationships. Once people understand that you are genuinely here to help them, by being excellent at what you love to do, then they will listen and follow your golden advice. It takes decades to become a master at something; there is the 10,000 Hour Rule to consider. So start by sharing your love of doing what you do, thereby helping people who will be delighted to trade you $$ for your expertise. For example, I LOVE throwing GREAT parties!! So if you want your next party, wedding, event, trade show, whatever, to be 5-star fabulous, then you'd be wise to listen and learn from me, a guy whose hosted over 2,000 successful 5-Star events. Cause they are really, really easy to muck up. And with live events, there is no pause, no replay, no do-overs. It's one and done. If you are looking to host a kick-ass event, check out my hilarious step-by-step guide book, It's 5 AM Go Home, being published in July 2019.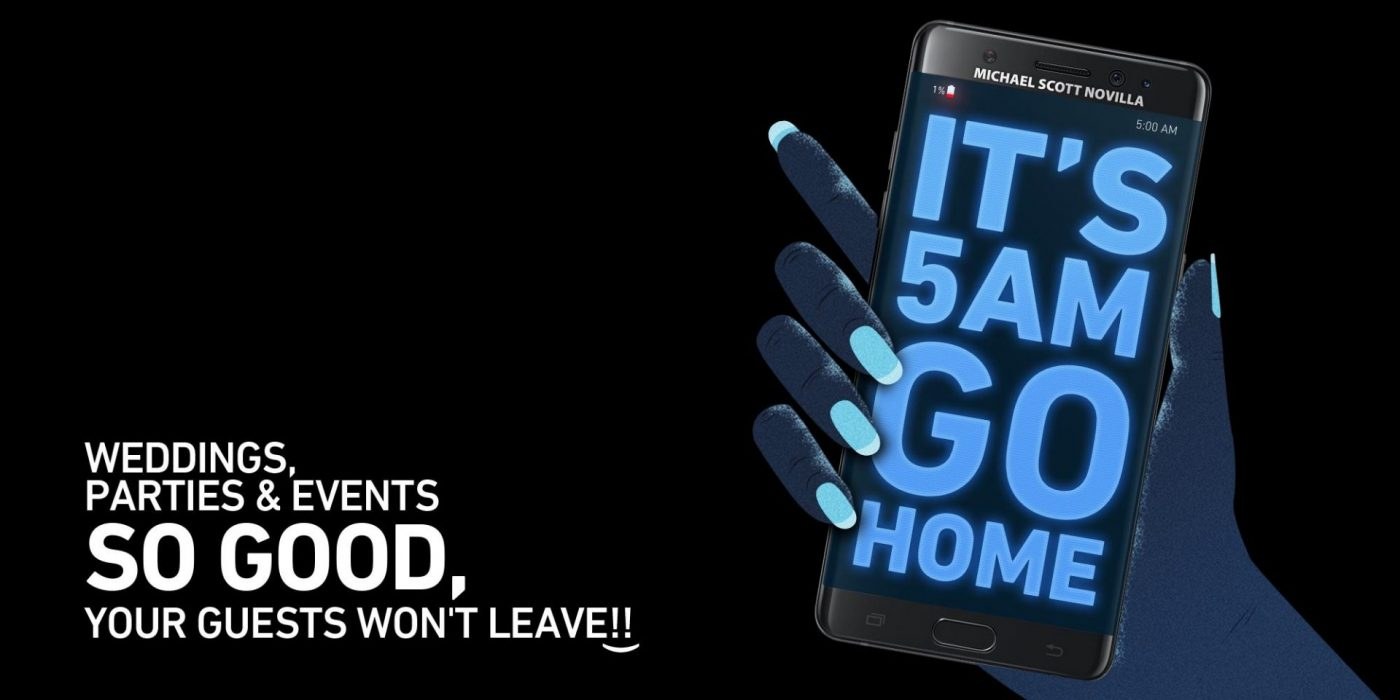 Tonight we were joined by ESC members:
John Pereira of Imperio Real Estate Group, newcomers Lee Loiselle and Nick Acosta, both with downtown St. Pete Jay Alan Real Estate, a new real estate company located in the swanky Station House, just down the street from here. Michelle Tolan, the owner of Your CBD Store St. Pete, also joins us tonight. They offer a SPA like calming experience, instead of the harsh impersonal dispensary atmosphere. Mr. Cool, Tech Master Seth Mattox returns, tonight he's looking for a new manufacturer for his OPSEAT gaming chair legs, as the tariffs are really hurting them. He confirms that the recession is trickling in, especially with luxury products. Sigh. Seth recommends the book How to build a Story Brand, by Donald Miller.  Thanks, Seth, see you at the After Party!
RECOMMENDATIONS.
Circling around our meeting table, everyone offers a recommendation; a book, movie, website, you get it:
BOOKS:
Emotional Intelligence 2.0, Profit First, ESC member Chihu's It's Works But How?, then Dare to Lead and finally Expert Secrets.
WISDOM:
What does our brand sound like? How to create an audio brand, using ALEXA BLUEPRINTS, for voice assistants. How does your brand sound when read out loud?
Pay your Credit Card balance on Statement Date vs due date, it helps your credit score.
PODCASTS:
The Ground Up and ESC member Naijae's Abundance Hack.
RESTAURANTS:
Craft Kitchen restaurant in Oldsmar. (I haven't tried yet.)
Old NE Pizza (Excellent Pizza!)
The Left Bank Bistro, at 1225 MLK Street North, just north down from NOVA 535. 
Sophia's Cucina Italian Restaurant (I haven't tried yet).
Il Riturno offers half-price pasta from 5 pm – 7 pm on Tuesday, and on Monday they offer 50% off for those of us in the hospitality business. I have been to Il Riturno, several times, it's excellent!
Mr. Real Estate Guru, Kym Ottaviani of Rex Rentals and Realty, our purple goddess Niajae, the always smiling published author, Chihu Ikechi-Uko, and Greg Simmons of Digital Web Edge Marketing, all return to ESC tonight to share their unique and valuable expertise! Niajae is a sales funnel and upper limit coach, aka a mindset coach, and is looking for someone to put together a media package for potential sponsors for her smart and entertaining Abundance Hack PodCast. 
 Dinner tonight was at Thuy's  La V Fusion Restaurant, located at 441 Central Avenue North, Downtown St. Pete. Yummy!
In case you don't know already, I'm Globetrotting Entrepreneur Michael Scott Novilla, founder and host of the Entrepreneur Social Club [tm], held every Thursday night, usually at my 1920 built venue NOVA 535. My wild and crazy life story plus step-by-step guide book It's 5 AM Go Home will be published soon, which will show you exactly how to throw weddings and parties so good your guests won't want to leave. This photo below is of me in Hanoi in the fall of 2018, during my 416-day journey around the globe; EPIC!! 29 countries visited, for a total of 87. WOW. #Grateful #Thankful
Hugs to our favorite bartender Vanessa Baker! 
Thursday 6:00 pm – 8:30 pm:
June 20 at NOVA 535
June 27 at NOVA 535 
** July 4 CLOSED **
July 11 at NOVA 535
…then dinner and more drinks immediately following…join us anytime! 
=== HERE ARE ALL OUR 06-06-2019 PHOTOS ===
** YES WE CAN!! ** at NOVA 535, where we make weddings, parties, and events so easy for you, with No Limits and No Stress, just 5-Star results!
Please keep NOVA 535 in mind for your weddings, receptions, film shoots, corporate holiday parties, celebrations, and unique events! We make it so easy for you, with No Limits and No Stress, just our 5-Star results! You can Get Started or email Sales@NOVA535.com. Thank you!