Entrepreneurial Tails of Deliciousness!
Tonight is a lovely Thursday November 2, 2017 here at historic DTSP wedding event and event space NOVA 535.  We gather once again for our weekly ESC bid dev (business development for those not in the know) and networking meeting. ESC of course is short for Entrepreneur Social Club ™, gathering every Thursday night, sans Hurricanes and Thanksgivings, since 2009. We connect for laughs, drinks, comradery and stories of success and failures. Tonight we are treated to several Entrepreneurial Tails of Deliciousness!
Above is Tampa Bay MindSpa owner Sherri Hanner, Big Frog T-Shirt lady Reilly Mulligan, the lovely photographer Jenna Michael (great editing our photos this week Jenna, thanks!) and Sasha Berry of Berry Balloons. Below is Sandra Gainey of Crown Jewels CrossCrown.net, and finally out pal Blue Cypress Payroll Services owner Keevy McAlavy.
John Perera offers advice (to Sandra) that the ESC agrees with: Check out handwrytten.com. Since you are an artist Sandra, build a personal brand around creating custom cards, maybe think about something with groovebook. You need to be unique, need to stand out, need a business consultant to start. Ask Nick Mazeika. And read Become a Key Person of Influence.
Enjoy a quick peek at tonight's most delicious dinner, at Brick and Mortar! Please SUBSCRIBE to https://youtube.com/c/Entrepreneursocialclub.
Above is Michael Berginc of LifeSmiles.Life with the lovely and talented Miky Gray, and newcomer Jamie Campbell of Keller Williams Realty.  Jamie has 30 years in the event design world, she's a master floral designer. Below is newcomer Deborah Dabaj who says she"collects the $$" and Roger Curlin of Club Savor! What a delicious deal his company offers! What a great group of humans!
Above is Dr. Thomas G. Quinlan of Healthy Lifestyle Tampa Bay, Dr. Cori Campbell who works with Dr. Q, Journalist on Call Keith Long and newcomer Hypnotist Sherri Hanner.
Superwomen Miky Gray and Kym Jenkins share a lovey fest hug. Pictured below on far right is Steve Berginc(?) and Events by Ally founder, you guessed it, Ally!
Tony Michaelides and Keith Long, our Journalist on Call, are pictured above. Keith says that "the simplest way to change your life is to publish your book." I agree! He's currently editing my 1st, Let's Party! Hosting 5-Star Weddings and Events The NOVA Way!  Below is Sherri Hanner in black, next to hat wearing Sasha Berry of Berry Balloons, then Bill J. Tarleton and finally John Pereira of Imperial Realty.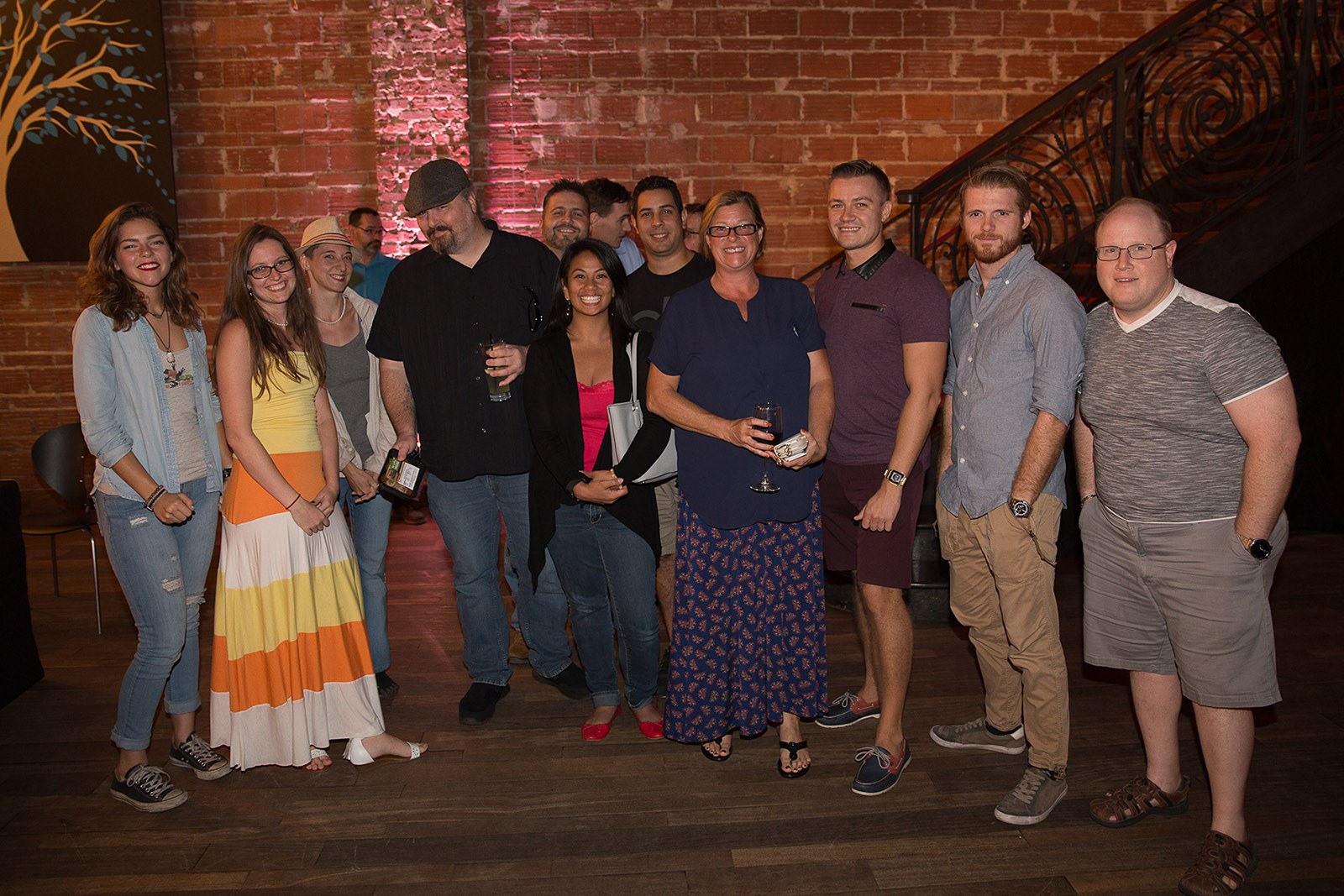 Dinner tonight was at our Top 5 Best of DTSP Restaurants Brick and Mortar Kitchen, located at 539 Central Avenue.
Beautiful Balloons and Big Frogs give our superstar bartender Tara, pictured below, plenty to smile about!
Above are two newcomers, Steve Rosen a "Senior Talent Acquisition Partner" of Career Compass Group, along with ??; both who snuck in late and I didn't record the dapper gray suited gent's name. Help please..?
Below Chris Jenkins, Queens Head Bar and Restaurant Owner Tracy Asalita share a hug with Shawn Mulligan of Big Frog T-Shirts.
Newcomer V16 Coffee Roasters founder Brandon Burke, who studies at USF and is a climbing instructor, shares a hug with Reilly Mulligan (above), while below Roger Curlin and Mr. Cool Tony Michaelides share their $1,000,000 smiles!
V Spicery Kym Jenkins and her Web Guru hubby Chris Jenkins are featured above with Tony LaPorta, a market analyst who is trading bitcoin (pictured in center).  Next is newcomers Jamie Campbell with 30 years in the flower business, and finally Dr. Cori Campbell a wellness advocate. Below Nick and Niko, the Frozen Organic "Clean Conscience Foods" Guys, Roger Curlin and finally Michael Berginc owner of LifeSmiles.Life.  Michael dresses like a turtle and truly enjoys helping and entertaining others!
Nick Koulias and Niko Mantzanas of CleanConscienceFoods.com are former fast food industry executives. They are offering Organic health food that's flash frozen. Their food lasts 3-6 months. They are looking to expand, unsure of expansion plan. ESC members agree not to do retail, stay on the web. Make easy packages, focus on exactly who your customer is. Craft your marketing message that speaks to your customer. Subscription model suggested. Tony LaPorta asks if you want an investor. These guys are smart, they "digest" our advice and I'm confident that they will find their best path along the way! Good luck gents!
Above is the lovely newcomer Sandra Gainey of Cross and Crown, an inspirational Greeting Cards and Jewelry company. Below in maroon polo shirt, originally from Siberia, Russia, is Lance Thompson. Next is Dr. Q, followed by MindSpa owner Sherri Hanner, then Berry of Berry Balloons and finally NW Mutual rep Bill J. Tarleton.
See you all next (and every) Thursday night from 6:00 pm to 8:30 pm for the biz dev and networking portion of the Entrepreneur Social Club then we head downtown St. Pete "DTSP" for dinner, more drinks and plenty of tomfoolery! Check HERE for exact ESC meeting location!
Psssst. Keep ESC QH, the historic DTSP venue NOVA 535 in mind for your 5-Star events, weddings, film shoots and fundraisers!