Wow!, these busy weeks just fly by. It seems that our 7 day week has been reduced to about 3, maybe 4 days. Blip blap bloop and it's Thursday night again. This one lands on the 25th of April, 2019, scarily at the almost halfway mark into 2019. Gratefully we are gathering, once again, for networking, biz dev, tom-foolery, blowing off steam, ordering cocktails, and just about anything we can do to help lower the stresses of running your own business. No matter what size and scale, they are all difficult, mine included. I'm the super insane guy who has been trying, thankfully somewhat successfully, to manage the live event business. Weddings, Celebrations, Fundraisers, Celebrations, Meetings, and Film Shoots. Several events each and every week, here at my historic downtown St. Pete venue NOVA 535. Between that and running this ESC Klown Show, I am actually making progress on my first book, It's 5 am Go Home, a wild, crazy and informative peek into my life, as a guy making his living hosting amazing parties and weddings.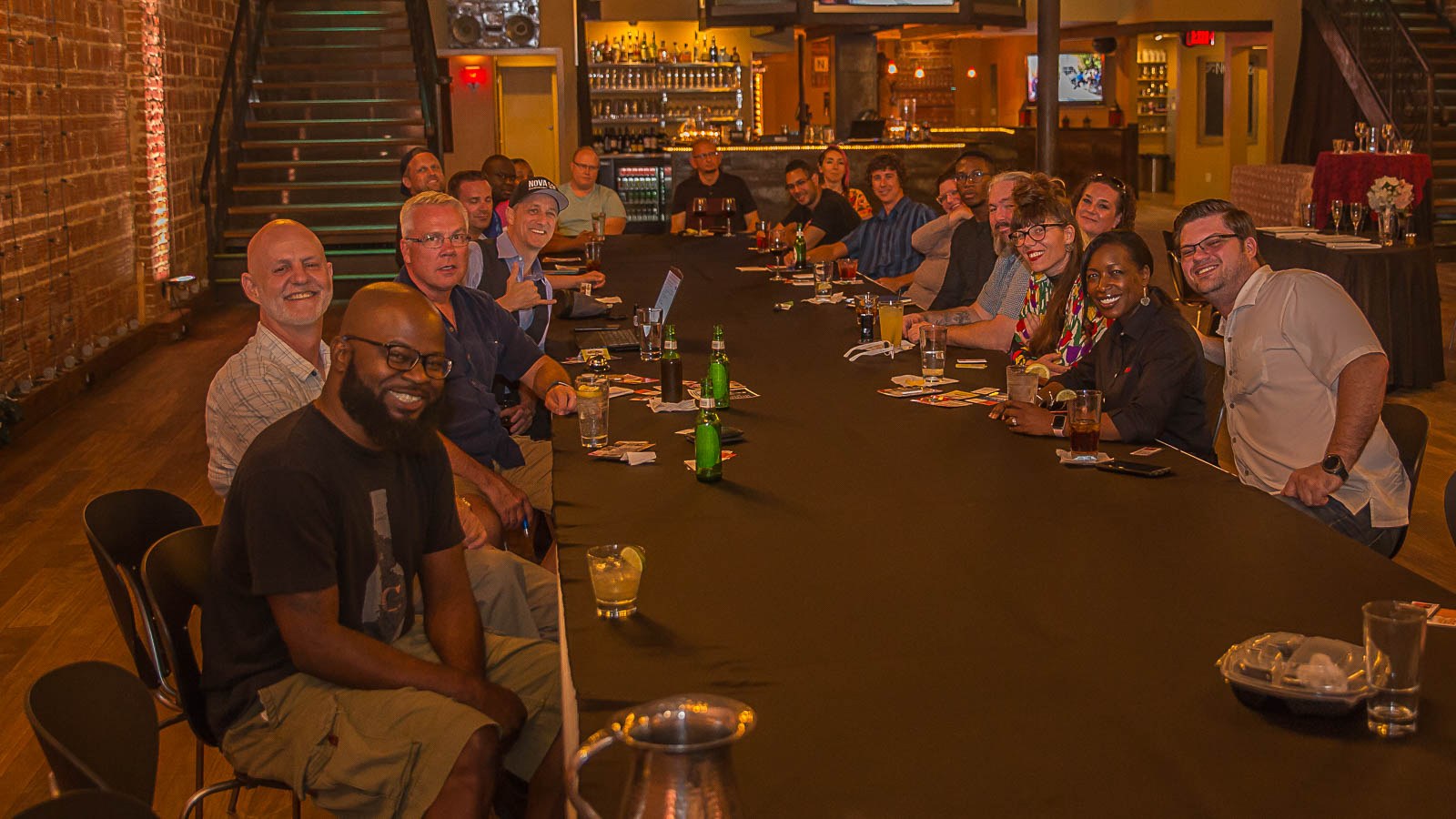 Over 2,000 successful events and counting… which is partially why I host the ESC, to help newcomers and start-ups, so they get started with a good solid foundation. Like a great name. Tonight a couple came in for the first time, intending to start up their first cleaning company. They are husband and wife, last name DORN. Some of our gold to them was the fun name Gosh Dorn Clean. Cute, memorable and descriptive. So Gosh Dorn It, let us get the Entrepreneur Social Club [tm] meeting started!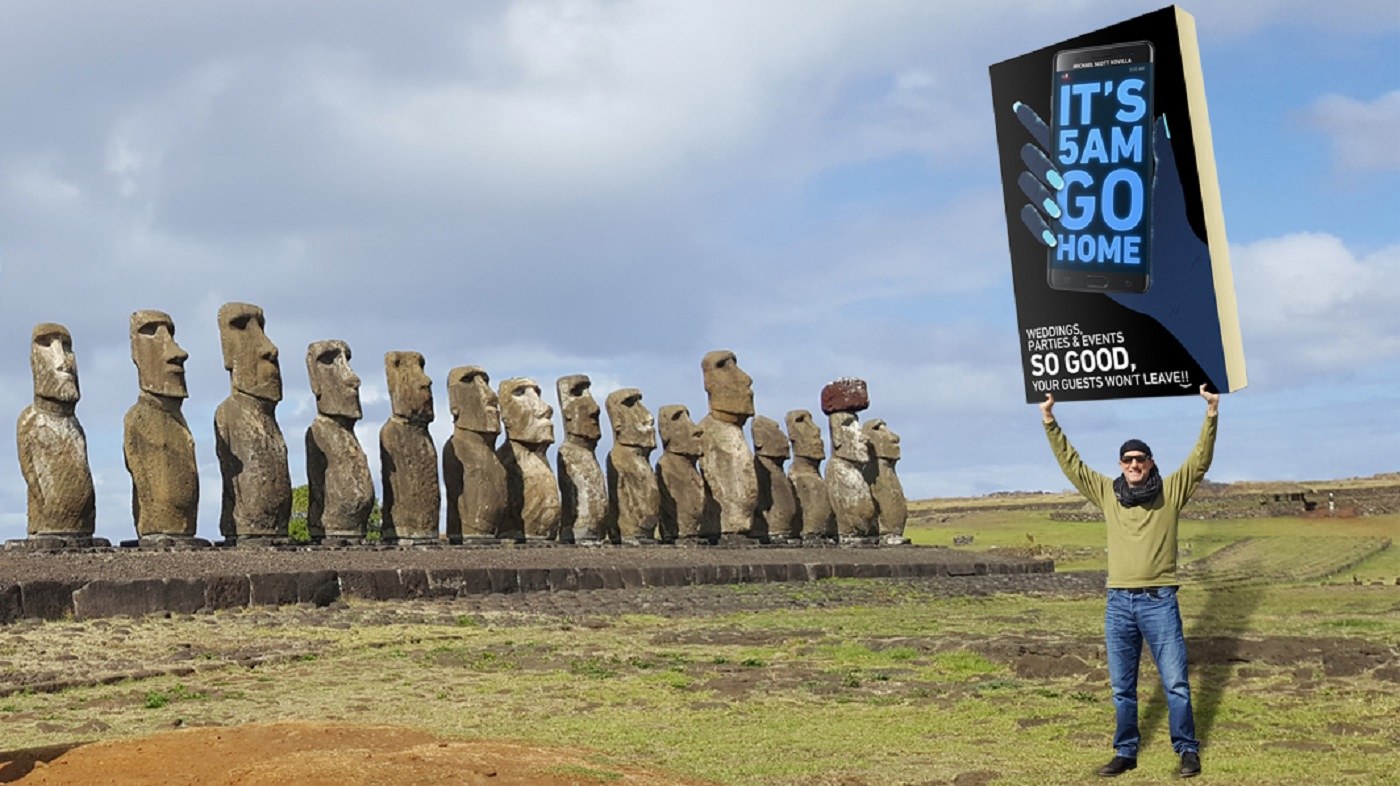 During our Entrepreneur Social Club [tm] meeting, inside historic Downtown St. Pete venue NOVA 535, everything goes EXCEPT religion and politics, liars, bullies, and thieves. We are a big family, one that realizes that when you are better off, everyone is better off. We tell you the truth, especially when it hurts. 

On this occasion, we went around the table with each ESC member offering one RECOMMENDATION or having them share "Did you know about this…"
Pod Coins are a Digital Payment Ecosystem Inspired by Bitcoin, a Social Media Cryptocurrency Coin.
Books that were recommended were:
Profit First by entrepreneur Mike Michalowicz.
Rich Dad Poor Dad by Robert T. Kiyosaki.
Anything You Want by Derek Sivers.
Tim Ferris the best selling Author of 4 Hour Work Week.

Other recommendations and suggestions were:
Go visit the Island country of Jamaica. 
HayStack is an app for digital business cards.
You are your own health care, you are what you eat, drink and think. 
BombBomb is video email.
Intermittent Fasting is dieting plans that cycle between a period of fasting and non-fasting over a determined time period.
Startup TV Show.
Lots of new Cannabis Ventures happening.
Google Analytics 360 lets you measure your advertising ROI as well as track your Flash, video, and social networking sites and applications.
** Preview Warning: the food at Brick and Mortar Kitchen is to Die For **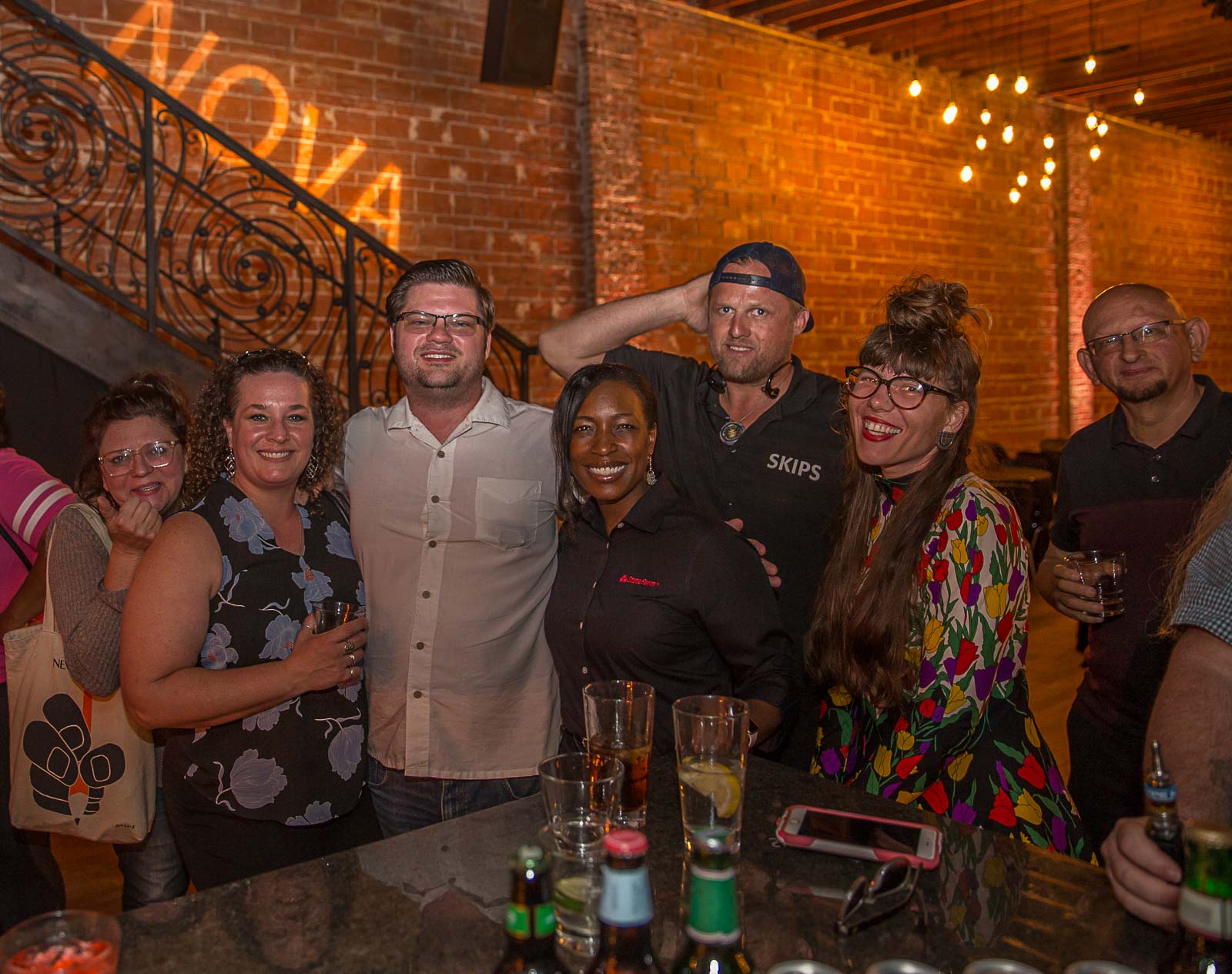 Kera Sundance is a dog training expert, author of several Canine Conditioning books, which (according to Amazon) "addresses the five components of fitness: strength, stamina, flexibility, balance, and coordination, with discussions on nutrition, physiology, and stretching."
Think about obtaining a Small life insurance policy to cover your (eventual) funeral.
Peter Drucker, the father of modern management, is (according to Wikipedia) "a leader in the development of management education, he invented the concept known as management by objectives and self-control…'"
Calm is currently the #1 app for meditation and sleep. 

After Hours is, "a 1985 American black comedy film directed by Martin Scorsese, written by Joseph Minion, and starring Griffin Dunne with an ensemble cast. The film follows Paul Hackett, portrayed by Dunne, as he experiences a series of misadventures while making his way home from New York City's SoHo district during the night." (Wikipedia), 
Traveling becomes more difficult as we age. Do it NOW, while you are young, healthy and able to. Do not miss seeing our planet, nor the opportunities to taste the bizarre, to peek behind the curtains, to go where no man has gone…hahaha, ok you get it. Take a peek at some of my adventures.
Unroll.me allows you to "clean up your inbox. Instantly see a list of all your subscription emails. Unsubscribe easily from whatever you don't want."
Above is newcomer Matt Jacobson, who loves trading stocks and currencies, and runs SolarPowerSolutions.org, he discovered the ESC via word of mouth. 
LET'S SEE WHO ELSE ATTENDED TONIGHT:
Michael Scott Novilla, that's me. Jodi says, many times tonight, that "Mike dinged himself." Ask me about my shiny bell some time. I'm a Globetrotting Entrepreneur, ESC founder, here to mentor and connect with my fellow Entrepreneurs and business owners. While I'm home in beautiful downtown St. Pete Florida, I host this madhouse of visionaries and fellow creators, every Thursday night, almost always here at historic venue  NOVA 535.  Jodi Hansell Herczeg plays within the entertainment and tech space is counsel for World Malaria Day and hopes that we are about 8 years away from eradicating that deadly infection. Bravo!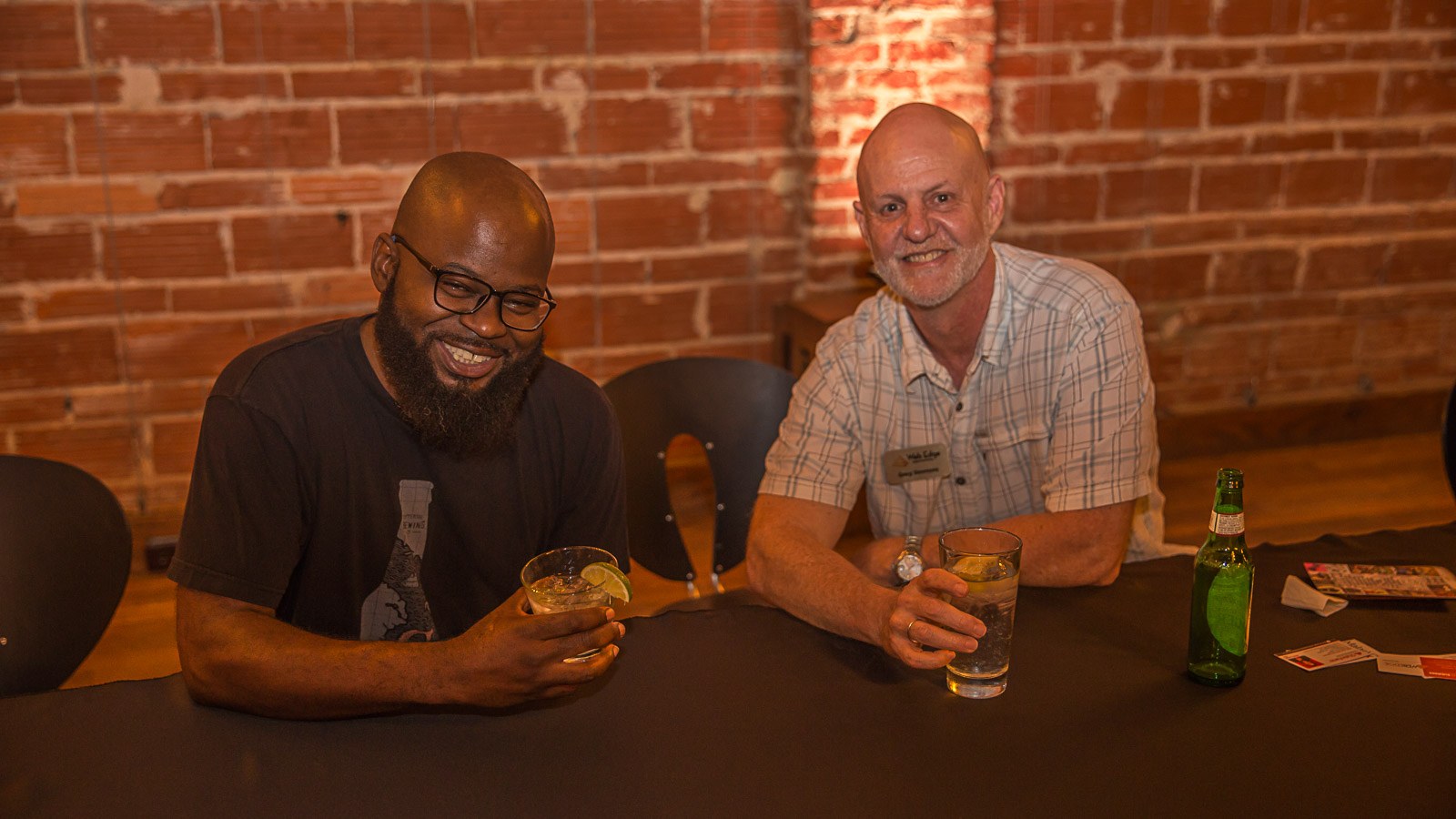 Above is Jzon and Greg Simmons. Greg owns WebEdge Digital marketing company. 
Jzon Livingston is the founder and master chef of debauchery at Higher Meading, found at Facebook.com/HigherMeading. About 9 or 10 years ago, Jzon started making beer in Chris Jenkins garage and discovered that he loved turning inert ingredients into intoxicants. It has a powerful creative and creator elements. He started with beers, which morphed into ciders, and happily shared them with the world. Encouraged by such favorable feedback, Jzon started his own meadery.  He also loves to travel so wants to be a contract brewer, aka gypsy brewer. We are sure that whatever Jzon sets his will to, he will accomplish. Pictured below is Greg Simek owner of Body Nutrition which was founded to "supply the highest quality nutritional supplements to professional, college, Olympic and Armed Forces athletic programs around the world."
Our Fabulous Five above features:
Kym Jenkins of V Spicery and hubby Chris Jenkins the self-proclaimed Grumpy old Bastard of Technology. Our always smiling and most colorful pal Marina Williams founder visionary of ArtPool Gallery, shares that her baby Art Pool turns 11 this Saturday, April 27, 2019, and we all are most invited to her Under The Sea Mermaid Party, from 8 pm – 11 pm, which I guarantee will be Fabulous!!  Also is Mimi Lange our favorite State Farm Insurance agent, smiling along with Mr. Technology Fixer Justin Petro. 
Chris Jenkins, at one point during the evening, mentions that "Imagine a bathtub full of cold, raw SPAM, that's what it's like being on FB with Mike." Hmm, that's funny.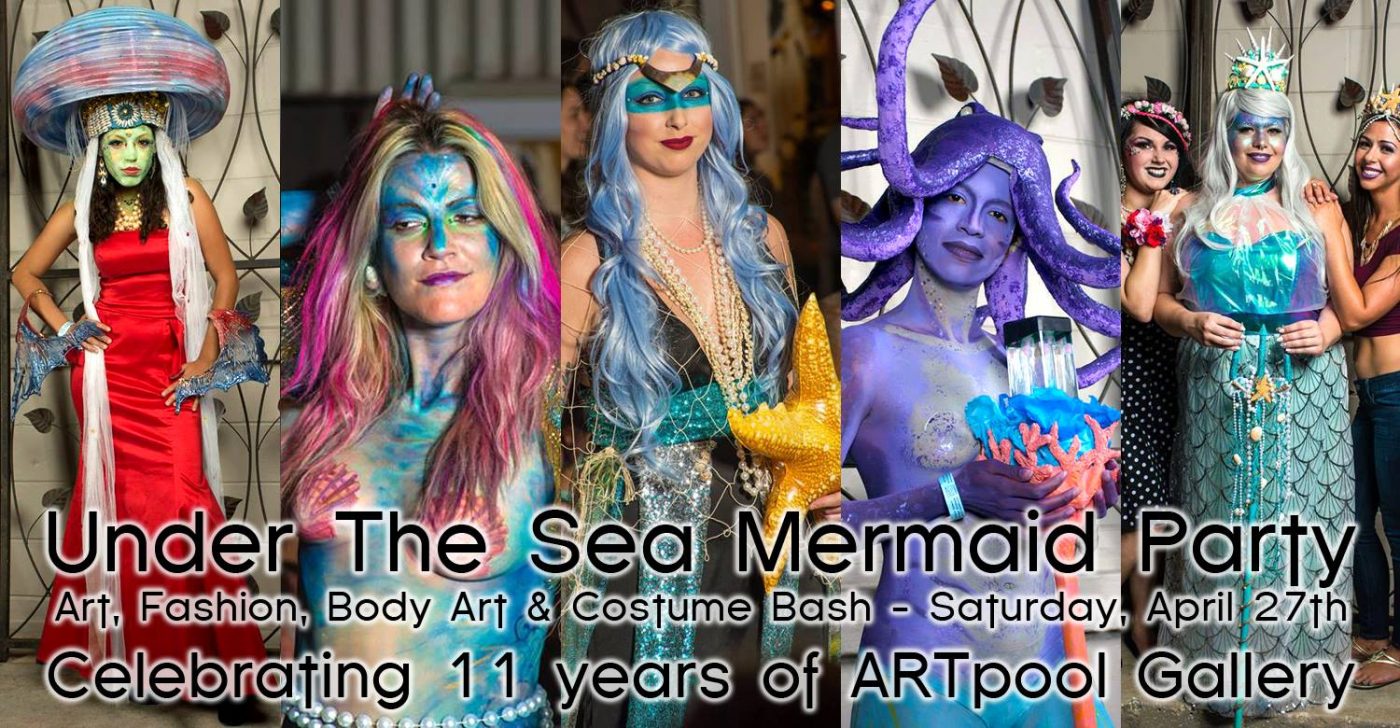 Chihu Ikechi-Uko (pictured below, far right end, smiling with glasses) reminds us of his Social media Marketing Book Release On April 29. It Works, but How? found at GrowWithChihu.com.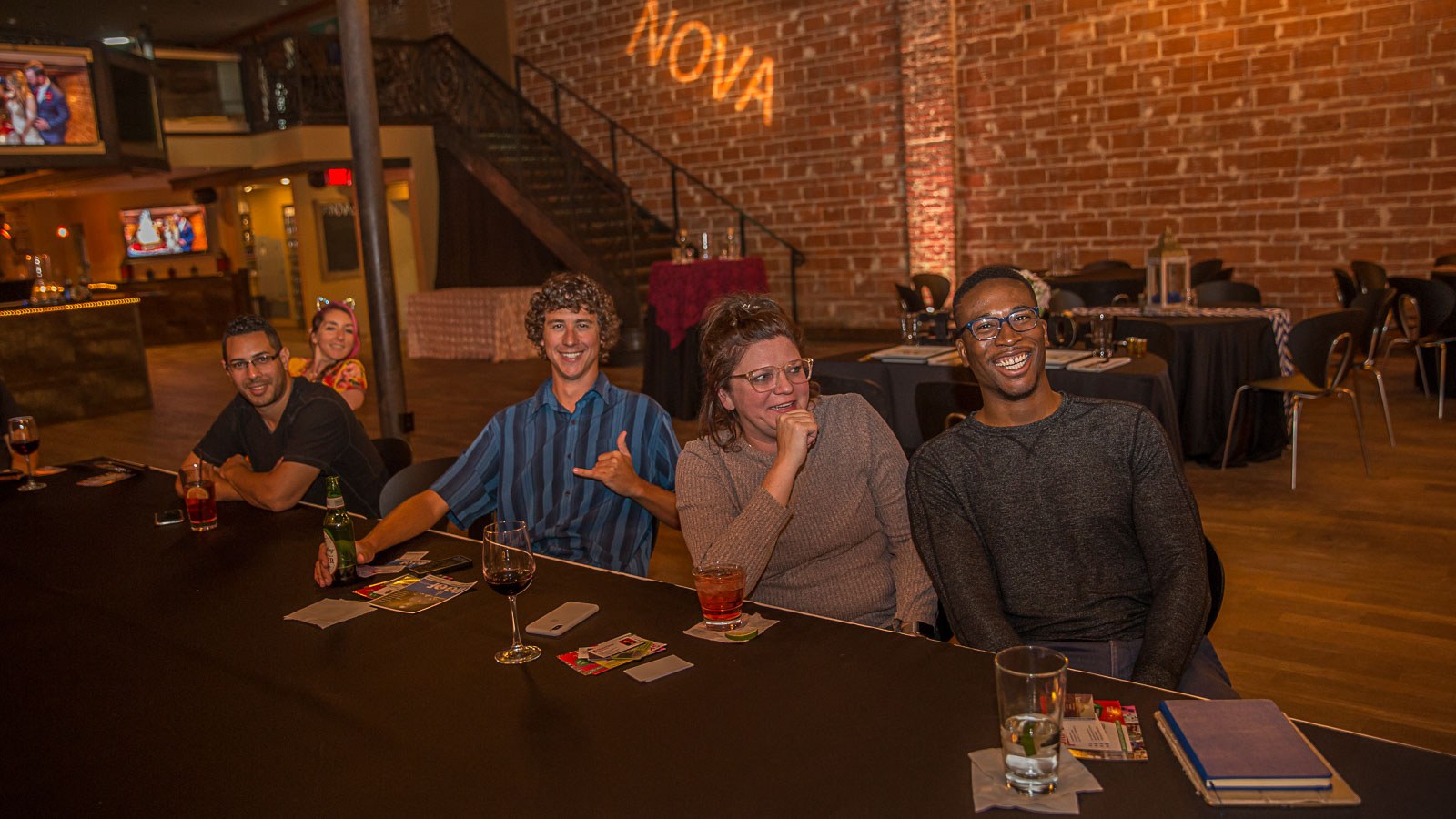 (Pictured above, left to right, is Julia, John Pereira, Matt Jacobson, Jodi, and Chihu.)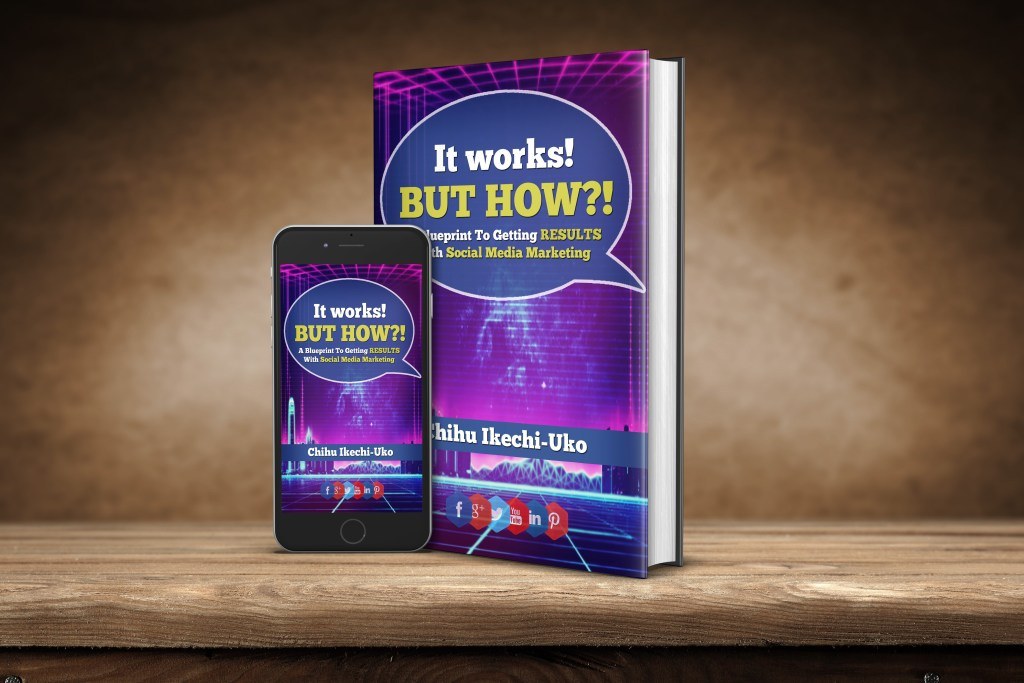 Julia Maria our lovely master herbalist, is standing (below) between our soon to be published author Chihu, and Shem. Shem Cohen creates web applications, including immig.us where you "Easily prepare your US citizenship application with Attorney Review." Shem went thru the process himself, and as an IT architect, he hired coders and the team necessary to build his website immig.us. Bravo Shem, for making our world an easier less stressful place to navigate. 
Below is Marina Williams of ArtPool Gallery, wearing the most colorful dress, next to newcomers Jacqueline and Antwyon, with Julia Marie in the middle, and on the end wearing black SKIPS shirt and blue hat is Bryan Glaus owner of Skips Dumpsters. Skips are dumpsters with Murals, and they focus on the residential trash and home renovation markets here in St. Pete Tampa Bay. Welcome! 
Antwyon Dorn and wife Jacqueline Dorn (pictured below wearing bright pink and blue cartoon shirts) are starting up their first residential cleaning company. They need help with a website for new customers, we strongly suggest to skip daycare centers, which have razor thin margins, which are also political, plus they (the Dorns) have no track record. We came up with the (I think) fantastic name for them, Gosh Dorn Clean. I hope they buy goshdornclean.com as it's available as of this moment. 
Eric Olson owner of Pedal Pub St. Pete, reminds us that it's Not a Dive Bar, it's a Drive Bar. He is raising $$ for a feature film, Just One Client, the story of a down on her luck realtor, who goes from bad to worse when she works an open house. Sounds fun! He's seeking $300k, best of luck!
Bryan Vanderhoof aka DJ Hoof.
Steven Rosen (light blue shirt) of Career Compass Group.
Dr. Christopher Jackson (black shirt and glasses) offers us all a path to wellness.
Justin Petro of Advanced Millenium Computers.
Greg Simmons (white plaid shirt) founder of Web Edge Digital Marketing.
John Pereira of Imperio Realty. 
Tracy Asalita owner of the always fun and delicious Queenshead Restaurant and Bar, where we will be May 2, 2019 (instead of at NOVA). 2501 Central Avenue Downtown St. Pete. The Queenshead is always fun, and their food, especially their fish and chips, are yummy!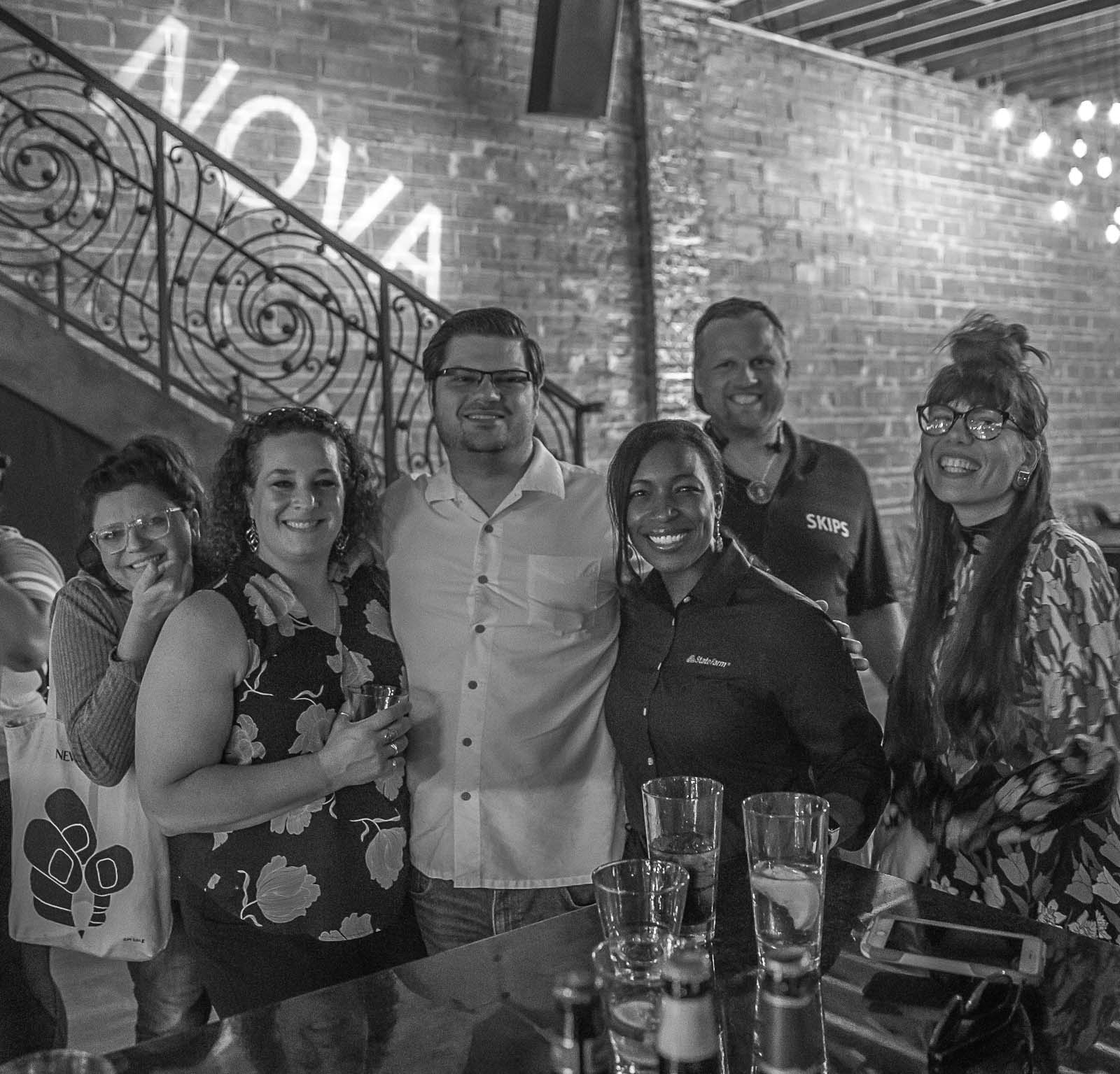 DINNER tonight was at one of Florida's finest restaurants, Brick and Mortar Kitchen, located at 539 Central Avenue Downtown St. Pete. Owned by Chef Jason and Hope, we love them all dearly. They always take great care of us, including 5-star service by Dustin and April, and the entire Team BnM!
A musical present from DJ HOOF, take a listen it's fantastic!
Thursday, May 2 OFFSITE at QUEENSHEAD located 2501 Central Avenue Downtown St. Pete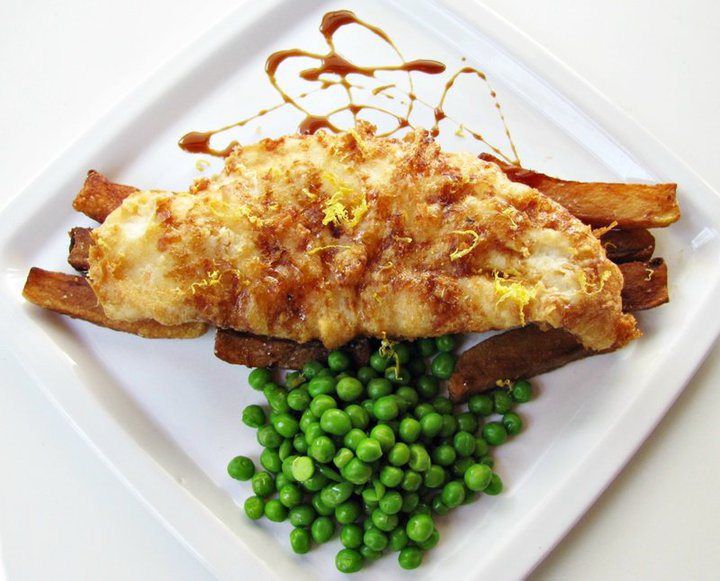 Thursday, May 9 at NOVA 535
Thursday, May 16 at NOVA 535
Thursday, May 23 at NOVA 535
Thursday, May 30 at NOVA 535
===== HERE ARE ALL OUR 04-25-2019 PHOTOS =====
Keep NOVA 535 in mind for your weddings, receptions, film shoots, corporate parties, celebrations, and unique events! We make it so easy for you, with No Limits and No Stress, just 5-Star results!