Let's Xpress Yourself tonight, with your movements, words, actions, business and playing cards, your dinner and drink choices, and whether you follow me along to the after party.  Let's see if you can hang with el Globetrotter!! OH and welcome to the Entrepreneur Social Club [tm], the ESC is open and it's time to Xpress Yourself!! (Just keep the religion and politics out.)

Tonight is Thursday, April 11, 2019, and we've gathered inside my historic Downtown St. Pete venue NOVA 535, where everything goes EXCEPT religion and politics, liars bullies and thieves. We are consenting adults, by the way. Below Elizabeth Olguin snuggles in with her beau and COO of Express Yourself Media, Paul Menegazzi, who also hugs with Mimi Lang wearing green.  

Christopher Pinault founder of Centric Leadership, joins us for the first time, welcome Chris! He works with small businesses who are growing, focusing on people, who are the core of all businesses, though 'all' may be debatable as AI grow in strength… TERMINATOR! Chris is now living in St Pete, was in Ft. Myers and has lived in many places, including Iraq while serving inside the US Air Force.  He has transitioned to coaching. Networking is new to Chris, and so we suggest he starts 'from the beginning' by reading Become Key Person of Influence by Daniel Priestly: Pitch, Publish, Profile, Productize, and Partnership.
Mimi Lang recommends that Chris checks out a former Marine Steve Wilmer who is another successful speaker/coach.
Bryan Vanderhoof, aka DJ HOOF, (pictured below in light blue) is a clean entertainment DJ for Teen Parties, who loves spinning and mashing up Nightclub Top 40 hits. Though he does get "real dirty" on his popular podcast, The Hot Party Top 10, rocking since 2018. Welcome, Bryan!! 
Alan Jacobson Project First Date, Bryan Vanderhoof aka DJ HOOF, Christopher Pinault of Centric Leadership, and Paul Menegazzi owner of XpressurselfMedia. Xpress is sponsoring our April 20, 2019, 4:20 Party here at NOVA 535…do NOT miss this one!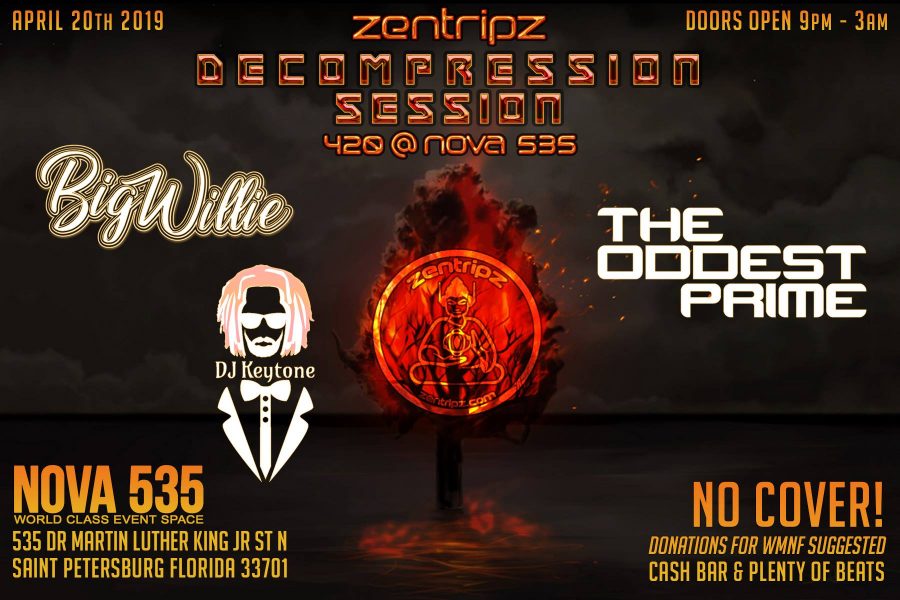 Dood Zentripz is celebrating 20 years of hosting his Zentripz, the longest running radio show in Tampa Bay. Saturday, April 20, 2019, from 9 pm to 3 am will most certainly be a legendary celebration. Burlesque Dancer, Stilt Walker, 3 DJS, Food and Drinks galore for purchase, and so much digital and analog entertainment to enjoy. No cover just donate a few $$ to WMNF at the Door!!
TONIGHT'S ROLL CALL:
Photographer Sheri Kendrick, founder of charity Little Light of Mine
Justin Petro of Advanced Millenium Computers. 
Chihu Ikechi-uko, founder of UnfilteredMarketing.net.
Tony LaPorta and his pal Madonna Davis, a teacher by day and writer of "Slaughter Town" by night.
Allison Granell reminds us to always 'choose wisely" is accompanied by hubby Jayme as they pitch their wedding band FromMetoYouBand.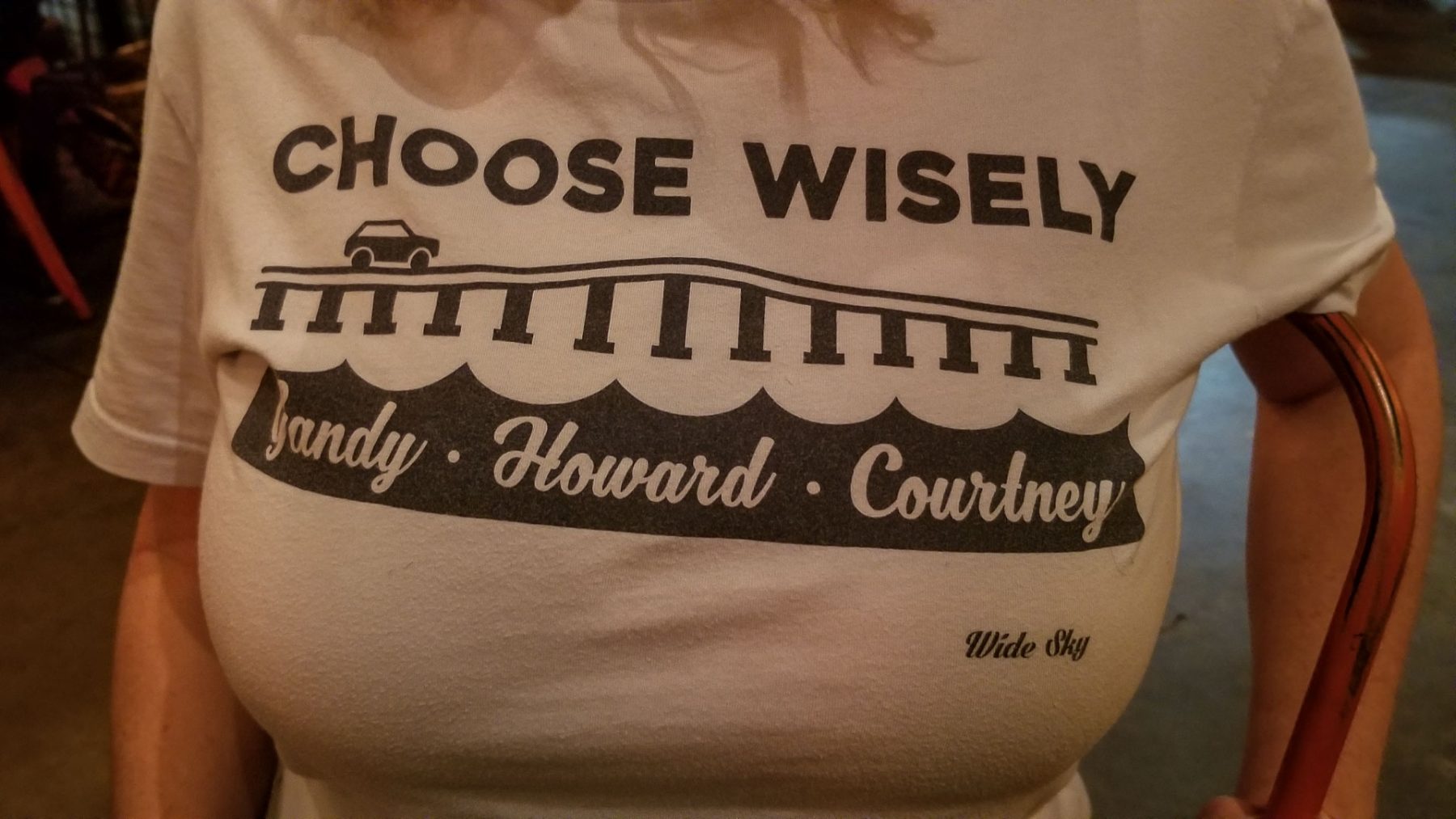 Chris Jenkins our Grumpy Old Bastard of Tech and lovely wife
Kym Jenkins of V-Spicery at dinner, with Kym sharing her love and appreciation of my (constant) photo taking! 
Max Glazer (having fun below) founder of the fabulous downtown St. Pete Shave Cave that offers Fine Grooming Products for faces of all sorts!
Mimi Lang, our favorite State Farm Agent, reminds landlords and tenants alike the benefits of Renters Insurance. 
Tony Michaelides our resident Music Industry Mr. Cool!
DINNER tonight was at HAWKERS Asian Street Fare, 1235 Central Avenue, Downtown St. Pete. Yummy and great vibe!
Allan Jacobson (above in plaid shirt) is the founder of Project First Date, a card game with 190 questions to help connect and break the ice.  We offer that his actual customers are event coordinators and more properly bar owners. These are playing card size cards, with 6 Categories – Passion, Career, Adventure, Family, Oddball, Flirtatious. Fun and smart for sure, the cards just need some improved design which we explored in detail. Welcome Allan, hope we see you again. 
I'm Globetrotting Entrepreneur Michael Scott Novilla, ESC founder, here to help mentor and connect with our like-minded Entrepreneurs. While I'm home living in St. Pete Florida, I host this madhouse of visionaries and fellow creators, every Thursday night, almost always here at historic venue  NOVA 535. Props again to guru Chris Jenkins for holding down the ESC for fourteen months while I was away. Visiting 29 countries, over 416 days, utter and complete insanity. I've seen behind all the curtains, please be careful and take a peek if you so dare.
** SPECIAL EVENT ** SATURDAY APRIL 20 9 pm – 3 am
Dood Zentrip Decompression Session 420
===== HERE ARE ALL OUR 04-11-2019 PHOTOS =====
Please keep NOVA 535 in mind for your weddings, receptions, film shoots, corporate parties, and events! We LOVE hosting events just how you want, with No Limits and No Stress, just 5-Star results!